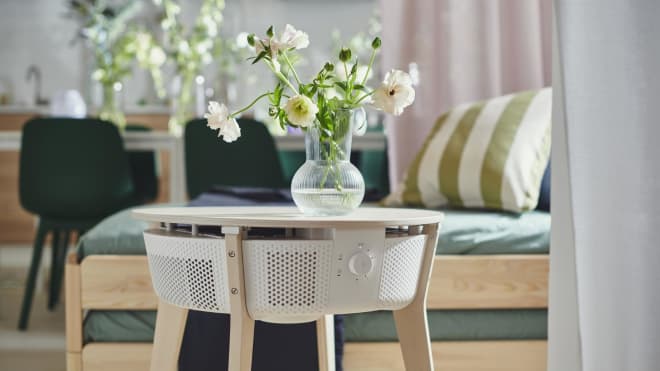 The STARKVIND air purifier comes in two different models — a stand-alone filter model and a side-table model that blends into your home decor. It features a three-filter system that can capture big particles like hair and pet dander, and remove about 99.5 percent of smaller airborne particles like dust and pollen, as well as gaseous pollutants that can cause odor.
"We've always wanted to design an air purifier with an IKEA look that's efficient, affordable and can blend into any home," Henrik Telander, Product Owner at IKEA of Sweden, said in a press release. "We asked ourselves if we could integrate the benefits, functionality and design of an air purifier into a piece of IKEA furniture. STARKVIND air purifier is the result."
STARKVIND has five different fan speeds to choose from, as well as an auto-mode that will adjust fan speed depending on the amount of particulate matter in the air. Via the app, you can also use the built-in air quality sensor to read the current air quality in your home.
"For IKEA, the smart home is not about gadgets. It's about making life and home better through combining our solid home furnishing knowledge with digital solutions and technology," Telander said. "That's why we explore the possibility of integrating the function of purifying air and technology to provide a good experience for customers at home."