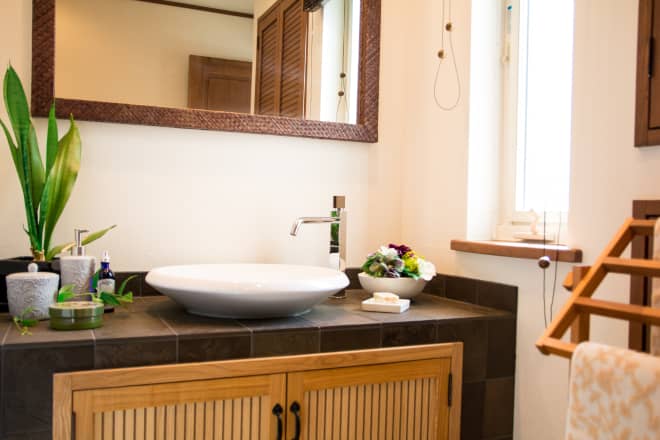 Using a public restroom can be a mixed bag, so to speak, no matter where you are in the world. Finding a bathroom that is clean, quiet, and well-stocked with essentials can feel like winning the lottery, so one company is on a mission to track down the best public bathrooms in America, in an effort to highlight those rare gems among the bunch.
Cintas, a company that provides cleaning, first aid, and safety services and products to companies around the country, is taking votes now to find America's best restroom, awarding one lucky winner with $2,500 in Cintas products and services. Users can cast their votes for any of the 10 finalists between now and August 20, and voters will choose the champion based on cleanliness, visual appeal, innovation, functionality, and unique design elements, crowning one ultimate winner and securing their spot in the "America's Best Restroom Hall of Fame."
Among the top 10 finalists: restrooms at a pizza place in Cincinnati, Ohio, portable toilets in Santa Rosa, California, and even an airport bathroom in New York City. Yep, the 900 square foot bathrooms at John F. Kennedy International Airport's Terminal 4 with sophisticated teal back-painted glass featuring graphics of iconic NYC landmarks like the Brooklyn Bridge made the cut alongside the subway-themed restrooms in Cincinnati's Two Cities Pizza, complete with subway handles above the sinks and sounds of station stops playing over the speakers. The restrooms at Core 24 GVL fitness studio in Greenville, South Carolina feel like a nightclub turned art museum, while the offerings at Atlanta's Nan Thai Fine Dining make for a calm, peaceful oasis during a mid-meal bathroom break.
Launched in 2002, the best restroom contest has boasted past winners in varied restrooms at University of Notre Dame; The Grand Casino in Biloxi, Mississippi; Kohler Art Center in Sheboygan, Wisconsin; the Fort Smith, Arkansas Airport; Wendell's Restaurant in Westerville, Ohio; Jungle Jim's International Market in Fairfield, Ohio; Hermitage Hotel in Nashville, Tennessee; Shoji Tabuchi Theatre in Branson, Missouri; and many others. To check out the 2021 finalists, including photos and more info about each spot, take a peek and cast your vote before August 20. The winner will be crowned in September.