If you've ever seen a tiny dish in a shop and wondered, "What would I ever do with that?" I have an answer for you. Those itty-bitty bowls and petite plates are actually among the most-used items in my china cabinet. In fact, the smallest dishes are the ones I keep finding new uses for! Sold as prep bowls, pinch bowls, ramekins, salt dishes, saucers, or butter pat plates, tiny dishes can be used for myriad uses. 
I first discovered the magic of tiny dishes working on magazine photoshoots. No matter what the shoot was, it seemed like the prop stylist always showed up with a stash of gorgeous miniature dishes. Shooting an office? The stylist would pile paperclips in a little dish meant for soy sauce. Setting a table? Salt and pepper, red pepper flakes, even little pickled jalapeños — all would get laid out in small bowls as accents on the table. Some pros even use little bowls or dishes on coffee tables in lieu of larger trays, as seen in the image above. Professional stylists are so enamored with itty-bitty serving pieces that my friend, prop stylist Carla Gonzalez Hart, even coined a dedicated hashtag for the discovery of these pieces: #teenydishfriday.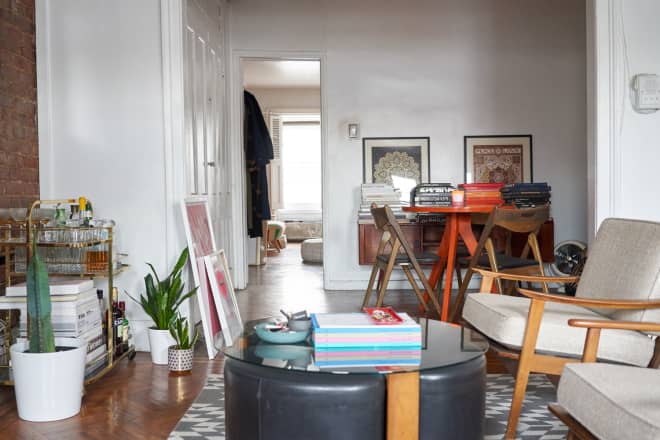 Back at my own home, I began to put my prep bowls to use in similar ways, starting with the dining table. I use these little guys to hold salt and pepper, soy sauce, za'atar, and freshly chopped herbs at meal time. Slightly larger tiny dishes are also great for votive candles or even to float a single blossom. Come dessert or coffee and tea time, and a little dish can hold candies or sugar cubes. When I want my son to have a modest portion of ice cream, I reach for a tiny bowl or ramekin.
Once I discovered the magic of tiny dishes, I started buying them for every room of the house. I have a few little cups in my desk drawers for office supplies, bowls in my bedside tables drawers for jewelry, and my friend, professional organizer Lindsay Downes, inspired me to use a tiny dish to store my retainers!